Stock Short Interest Data
Short Interest
Short Squeeze™ Proprietary Data
Find powerful squeezes happening now!
Find stocks with the largest short positions
Stocks trading at pivotal price levels now!
Short Squeeze Ranking™
Short Screener™
Squeeze Alert™
Top 100 List
And much more...Sign Up Now!
The possibility of a short squeeze is one reason some analysts look at a high amount of short interest as a bullish indicator. Short Interest is the fuel, performance is the fuse, says ShortSqueeze.com

- USA Today

...according to ShortSqueeze.com. Any encouraging news from Martha Stewart Living could lead to a wave of short sellers trying to buy stock and limit their losses, pushing the price higher.

- CNBC / MSN Money

...short sellers, not financial results, are driving up Air T's share price. More than half the shares were sold short last month, according to ShortSqueeze.com

- Reuters

A subscription to ShortSqueeze.com gives you access to a spreadsheet packed with data... interesting and useful...

- Barron's
ShortSqueeze.com
TM
Proprietary Data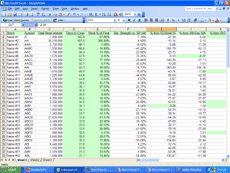 ShortSqueeze.com has developed the Squeeze Ranking™ system used to gauge a stocks squeeze potential. We use a proprietary algorithm used to rank a stocks potential for either a bullish or bearish stock price move. Squeeze Theory™ is the creation of Dylan Wetherill, the founder of Short Squeeze™. The theory seeks to identify the basic principles that cause a stock to experience a short squeeze (bullish) or a long squeeze (bearish).
For example, a Squeeze Ranking™ of 0 is neutral, with unlimited up or down values to mark bullishness or bearishness. A Squeeze Ranking™ of 2,000 would be more bullish than a Squeeze Ranking™ of 50. Conversely, a negative Squeeze Ranking™ of -3,000 would be much more bearish than a Squeeze Ranking™ of -50. As a Short Squeeze™ member you are able to search all stocks and find stocks with the highest Squeeze Rankings™: short squeeze (bullish) and long squeeze (bearish). The process Squeeze Ranking™ system is designed according to the principles of Squeeze Theory™.
Many people assume that short interest in a stock alone biases a stock to either upward or downward price moves. This is not the case. The potential for a squeeze is dependent upon two market forces: the amount of concentrated short interest that exists in a stock and the price action of the stock.
Part 1: A stock's Days To Cover (Short Ratio) and it's Short Percent of Float are both used to identify the amount of concentrated short interest that exist in a stock. The higher these numbers, the higher the amount of relative levels of concentrated short interest there is in a stock.
Part 2: The second factor in evaluating a stock Squeeze Ranking™ is the stock's price action. The stronger a stock's price performance is, the more pain will be felt by people who are short a stock. If someone is short a stock and the price action is relatively flat, there is little immediate incentive for a short to cover their position (buy stock). On the other hand, a stock experiencing powerful upward performance, or even making new 52-week highs, can cause an extreme desire by short traders to exit their trades. This is done by buying stock, which can initiate a chain reaction of buying interest to surge into a stock. This powerful market force is called a short squeeze.
Short Squeeze™ provides exclusive proprietary data and services, designed to give our members the tools and data to identify powerful opportunities in the market and gain an exclusive edge in the market.
Short Squeeze™ provides powerful raw stock data and encourages you to experiment with expanded factors that influence squeezes to occur in the market. The Squeeze Ranking™ and the Squeeze Theory™ are mathematical equations used to calculate a stocks bullish or bearish ranking. Although it can take much study in this art, you may profit by experimenting with deviations from this published algorithm that give you an edge in identifying powerful trading opportunities.
Good wishes and good trading,
Dylan Wetherill
Short Interest plays a powerful impact on the order flows that can surge into the market. Short Squeeze™ provides market professionals with exclusive short interest data and services not available anywhere else, so you may identify stock opportunities and gain from this valuable knowledge.
The World's best traders and fund managers have long understood the power that short interest can play on price moves within the stock market. Short Squeeze ™ is the first company exclusively dedicated to providing short interest data for all of the stocks that trade in the market of over 15,000 stocks (NYSE

®

, NASDAQ

®

, AMEX

®

OTCBB

®

and Pink Sheets

®

). ShortSqueeze.com is firmly committed to continuing our innovative approach and maintaining our focus on short interest research, data, and the ability for our members to gain from the understanding and tracking of this powerful market force.